From sea spiders and brittlestars to corals, many of the inhabitants of the North Atlantic sea floor have squiggly bits in their anatomy. Imitating these curvy, narrow shapes can pose an interesting challenge to knitters. As I set out to create an Iridogoria coral (pictured below), I wondered how to make the wavy, flexible stem: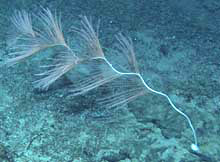 At first, i-cord seemed like the obvious method, but it would be slow to knit and tricky to make curvy. Instead, I decided to cast on for the length of the stem and knit it sideways. By working in stocking stitch, I could exploit that fabric's natural tendency to curl. Groups of increases and decreases would provide the "wobble"–just as they do in traditional Shetland "Old Shale" stitch patterns.
I used a 3mm circular needle and worsted weight yarn to to create a dense fabric that hold its shape exaggerates this effect. When I had reached the midway point in width, on a knit row, I worked alternating groups of increases and decreases, with a couple of plain stitches between the groups. In the case of my Iridogorgia, the instructions would read as follows:
Cast on 60 stitches
Rows 1, 3, 5: purl
Rows 2 & 6: knit
Row 4: knit 4, *(m 1, k 1) 6 times, k1, (k2 tog) 6 times, k2, repeat from *
Row 7: bind off
You can change the length and width of the pieces, as well as the number and frequency of increases and decreases, to suit your project.
For the fronds of this coral, I made tufts of fringe from eyelash yarn.
While the result does look similar to Iridigoria as it is pictured above, I have since discovered that this coral is actually a corkscrew shape, with fringe all around its spiral…Its side-to-side appearance in the photo is an illusion! Ah, knit and learn!
Next up…knitting narrow spirals!