You are currently browsing the category archive for the 'World Oceans Day Project' category.
We've been overwhelmed by the contributions people have made to our North Atlantic seafloor display. Thank you to everyone who contributed a lobster, a squid, a fish, a jellyfish, a coral, or any of the many many creatures gracing our front window.
Friday (yesterday), Sadie from the Ecology Action Centre took a number of the items from the display down to the Halifax waterfront to use as part of the EAC's World Ocean Day exhibit. It was a gorgeous sunny day, and many organizations had booths set up on the waterfront.
The knitted and crocheted creatures were a great hit. Now they are all back in The Loop's window and will be for the rest of the month, so please drop by to see our ecosystem if you haven't yet!
The next public display of knitting here in town will be happening next week, on Saturday June 14th. World-wide Knit in Public Day (WWKIP) has rolled around again, and some of the most ardent knitters in Halifax have been organizing some exciting activities. You can meet them on the lawn of the Spring Garden Memorial Library, just a block and a half up the hill from The Loop. The plan is to gather there at 2 p.m., but for some reason I wouldn't be surprised if people start arriving earlier than that. You can find more details on the official Halifax WWKIP Day blog.
The Loop is one of the sponsors of the event and we've put together a few goodies for raffle prizes and random giveaways. Our close neighbour Ciboulette Cafe will also be open, offering special goodies for WWKIPers.
See you in the Saturday sunshine!
Yesterday Sadie from the Ecology Action Centre and Morgan dropped by to set up our north Atlantic sea floor.
We've received tons of amazing donated creatures, including fish,, squid, jellyfish, sea urchins, sea anemones, glass sponges, coral, and of course octopi. They have been knit, crocheted and needle felted.
We are still welcoming additions right up until June 5th, a few days before Oceans Day. Have a look at the species wish list on the Stitchin Fish blog if you wish to get involved!
Please drop by any time to see our growing marine ecosystem.
When it's a worm.
If you've already had a look at the Ecology Action Centre's 'species wish list' for the Stitchin' Fish display, you might have noticed an interesting phenomenon: the description of odd, mysterious deep-sea creatures by naming them after more familiar things. Examples include the glass sponge, bubblegum coral, and the barndoor skate.
The sea mouse isn't on the wish list, but I remembered it as an organism that I found intriguing back in my days as an undergraduate biology student. Even though it is cute like a furry mouse (right?), it's a segmented worm in the class known as a polychaetes (also called bristle worms). It does have a lovely Latin name though: Aphrodite aculeata, inspired by the ancient Greek goddess of love.
The underside of a sea mouse gives more of a clue to its true identity:
Apparently sea mice have been found in North Atlantic waters off of Newfoundand, so it's quite possible that they could exist here on the Scotian Shelf too. That was enough for us to decide to include one in our seafloor recreation. Morgan saw the images and pounced like a cat on the opportunity to crochet a sea mouse.
I think she did a fantastic job … even the belly looks like the real thing.
Not only did Morgan whip this up in the course of the evening, she also wrote up the pattern when she was finished. Thanks Morgan!
Sea Mouse: a crochet pattern
Materials
Eyelash-style yarn for the back
Smooth worsted weight yarn in a contrasting colour
5mm/H crochet hook
Polyfill for stuffing
Instructions:
With underbelly yarn, ch16.
1 dc in 4th chain from hook; 2 dc in each ch to end, working 3 dc in last ch; ch 3.
Beginning second side, work 2 dc in each ch to end; ch3, turn.
Working second side again, work 2 dc in each dc to end. Finish off.
Working with two strands of eyelash yarn held together, join to end of underbelly and ch 3.
2 dc tog in each dc to end.
1 dc into sides of end sts and end of fdn ch, turning corners to work second side.
Repeat on second side.
Work one more dec row on first side and finish, leaving a long tail.
Sew up spine with yarn tail, stuffing sea mouse with polyfill.
Most of the talk of creating sea creatures for the Stitchin' Fish project has focused on knitting and crochet. When I looked at the Ecology Action Centre's species wish list, I knew I had to make a leatherback turtle since, in my former life, I was heavily involved with the Atlantic Canadian Recovery Team for this endangered species.
The idea of knitting the world's largest living reptile was somewhat daunting, even if I didn't make it life-size.
Photo: DFO Maritimes Region (click photo for more information)
I decided that it would be a perfect candidate for a needle felting project. This is only the second time I've used this technique, but I quickly learned that it is addictive. Once I got started, I couldn't wait to finish, seeing it literally take shape beneath my fingers. Needle felting can be dangerous, and I did draw blood a few times, but I feel that the effort was worthwhile.
Leatherback turtles are long-distance swimmers and deep divers, so it wouldn't be unusual to see them in the same areas as our cold-water corals. My woolly turtle is nowhere near life-sized, but maybe we can put him off in the back of the display so it looks like a huge turtle (900 kg!) that's far away. They feed mainly on jellyfish, so I'll have to make sure we have some of those in the display too.
Shortly after posting my brittle star pattern on Ravelry, I received a friendly message from a fellow Raveler who just happened to be an expert on brittle star taxonomy. She complimented me on my effort, but pointed out that most brittle stars have, in fact, only five arms. She suggested that the image from the Department of Fisheries and Oceans on which I had based my pattern actually depicted at least two of the creatures lumped together. (Brittle stars love company, I suppose).
I immediately set out to create a more anatomically accurate brittle star. Here is the result:
What it lacks in arms, compared to its enthusiastic predecessor, it has gained in accuracy. I suspect the proportions are still a bit off, but I'm ready to move on to the next undersea adventure! Here is the pattern for this version:
A More Accurate Brittle Star Pattern
Materials:
a small amount (about 25g) DK to worsted-weight yarn

3mm knitting needles

Blunt yarn needle for sewing up
Instructions:
Cast on 6 stitches.
Row 1: knit
Row 2: Kfb, knit until 1 st remains on left needle, turn, knit to end
Row 3: Kfb, knit until 2 st remains on left needle, turn, knit to end
Row 4: Kfb, knit until 3 st remains on left needle, turn, knit to end, then cast on 40 stitches using the backwards loop (aka "simple") cast-on.
Row 5: knit across all stitches
Rew 6: knit 9, (k2tog) 20 times, ending at tip of tentacle (for a non-curling tentacle, simply knit all stitches, for just a little curl, work fewer decreases)
Row 7: bind off 20 stitches, knit until 3 sts remain on left needle, turn, knit to last 2 sts, k2tog
Row 8: knit until 2 sts remain on left needle, turn, knit to last 2 sts, k2tog
Row 9: knit until 1 st remains on left needle, turn, knit to last 2 sts, k2tog (6 sts remain)
Row 10: knit across all stitches
Repeat rows 1 through 10 four more times, until your brittle star has 5 tentacles. Bind off the six remaining stitches.
Finishing:
Seam bind-off edge to cast-on. Run the yarn tail through the garter stitch bumps around the edge of the centre hole and draw closed. Weave in ends.
Keeping with the squiggly theme…
Remember bookworms? They hold the key to our next essential sea-creature shape: the long spiral. A perfect example of these curly shapes are the tentacles of beautiful brittle stars.
My brittle star pattern uses shortrows and the "bookworm technique" — a cast-on, followed by a row of decreases, followed by a bind-off — to create a more-or-less disc shaped creature with a fringe of curly arms. As far as I can tell, brittle stars can feature any number of tentacles . I stopped at 10. [Edit–Cathy, The Loop's resident biologist–tells me that brittle stars have radially symmetrical, 5-sectioned bodies. Their arms grow out of each section, so they always have a multiple of 5. (Unless someone nibbled one of them off and the appendage hasn't regenerated yet).
Here is the "official" pattern for the star pictured above, but the techniques can be adapted to craft all sorts of wiggly things.
Brittle Star Pattern (Edit: see a more accurate pattern here)
Materials:
a small amount (about 25g) DK to worsted-weight yarn

3mm knitting needles

Blunt yarn needle for sewing up
Instructions:
Cast on 6 stitches.
Row 1: knit 6, cast on 34 stitches using the backwards loop (aka "simple") cast-on.
Row 2: knit 36, turn work (4 stitches will remain on left needle), knit 2, then ktog 17 times to end of row (tip of tentacle)
Row 3: cast off 16 stitches, knit to end of row (6 stitches remaining)
Repeat rows 1 through 3 until your brittle star has as many tentacles as you think it should have. I stopped at 10. Bind off the six remaining stitches.
Finishing:
Seam bind-off edge to cast-on. Run the yarn tail through the garter stitch bumps around the edge of the centre hole and draw closed. Weave in ends.
From sea spiders and brittlestars to corals, many of the inhabitants of the North Atlantic sea floor have squiggly bits in their anatomy. Imitating these curvy, narrow shapes can pose an interesting challenge to knitters. As I set out to create an Iridogoria coral (pictured below), I wondered how to make the wavy, flexible stem: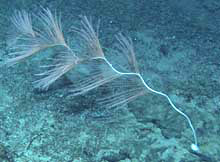 At first, i-cord seemed like the obvious method, but it would be slow to knit and tricky to make curvy. Instead, I decided to cast on for the length of the stem and knit it sideways. By working in stocking stitch, I could exploit that fabric's natural tendency to curl. Groups of increases and decreases would provide the "wobble"–just as they do in traditional Shetland "Old Shale" stitch patterns.
I used a 3mm circular needle and worsted weight yarn to to create a dense fabric that hold its shape exaggerates this effect. When I had reached the midway point in width, on a knit row, I worked alternating groups of increases and decreases, with a couple of plain stitches between the groups. In the case of my Iridogorgia, the instructions would read as follows:
Cast on 60 stitches
Rows 1, 3, 5: purl
Rows 2 & 6: knit
Row 4: knit 4, *(m 1, k 1) 6 times, k1, (k2 tog) 6 times, k2, repeat from *
Row 7: bind off
You can change the length and width of the pieces, as well as the number and frequency of increases and decreases, to suit your project.
For the fronds of this coral, I made tufts of fringe from eyelash yarn.
While the result does look similar to Iridigoria as it is pictured above, I have since discovered that this coral is actually a corkscrew shape, with fringe all around its spiral…Its side-to-side appearance in the photo is an illusion! Ah, knit and learn!
Next up…knitting narrow spirals!
Did you know that June 8th is World Oceans Day?
Nova Scotia is not quite an island, though as a peninsula we are surrounded by the ocean in all directions. One of the many lovely things about this place is that you are always just a short distance away from a coast. The ocean and resources found in it make a significant contribution to the social and economic life of Nova Scotia, yet most people who live here are unaware that there are coral reefs in the waters adjacent to Nova Scotia.
Colourful corals provide habitat for many fish and other species in the waters off Cape Breton. Click on the image at left to see more of the fantastic photos taken on the federal Fisheries department's research trips.

For Oceans Day 2008, The Loop is teaming up with the Ecology Action Centre to create a sample of the North Atlantic seafloor right here in our display window. We would like this to encourage people to learn about the marine environment that is almost at our doorstep. But we'll need help! We are going to gather up knitted and crocheted sea creatures to use in the display. We'd love it if you could help out.
The Figuring Institute's crocheted coral reef can provide some inspiration for patterns, along with the following:
a free fish mobile pattern from local designer Nettle Knits
For more ideas and inspiration, join us any Thursday night for Loop Group (6-9 p.m., everyone is welcome). Also stay tuned for a special crochet coral tutorial.
I've knitted a little cluster of sea anemones and can't wait to see how they will look as part of a larger ecosystem.
The Ecology Action Centre has set up a Facebook event page for this project. Why not join up, and invite your friends too?